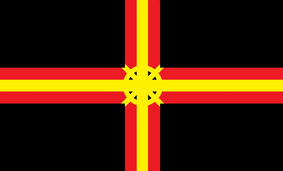 El
Estado de Guerra de la Confederación Sigma
, como su nombre lo dice, es cuando la Confederación se encuentra bajo amenazas de ataque o bajo los ataques mismos. El estado de Guerra se divide en 6 Secciones, desde las alertas hasta el máximo estado de guerra, El principal responsable de publicar éstos estados es el
Almirante Comandante de las Fuerzas Interestelares de la Confederación Sigma
con aprobación previa del
Supremo Líder de la Confederación Sigma
.
Los tipos de estados de guerra son los siguientes, en órden de que el 1 es el de menor importancia y el 7 es el de estado crítico de guerra y relaciones;
Cada estado busca mantener a la Confederación en alerta desde las advertencias a Guerra hasta la Guerra máxima.
Ad blocker interference detected!
Wikia is a free-to-use site that makes money from advertising. We have a modified experience for viewers using ad blockers

Wikia is not accessible if you've made further modifications. Remove the custom ad blocker rule(s) and the page will load as expected.