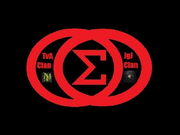 La
Primera Junta del Gobierno Provisional
fue la primera reunión, de carácter ordinario, del
Gobierno Provisional de la Confederación Sigma
.
Se efectuó el 30 de Septiembre de 2012.
Asistentes
Temas tratados
La junta fue para definir los cargos de manera definitiva y ratificar a los titulares: Klesk sería el Supremo Líder Pro-Tempore, Black, Comandante en Jefe del Ejército Confederado, Consejero, ToNY, Ser Supremo en Creencia y Religión Confederada, Consejero y Lucaso, Conquistador Supremo Confederado, Consejero.
Sin embargo, se decidió que se hiciese una votación para ver quién podría ocupar el puesto del Consejero; Científico Supremo en Investigación y Desarrollo Confederado, sin haber llegado a mayores resultados. Nuevamente se discutieron temas habituales: Como la bandera, el logotipo identificatorio del clan y el nombre del clan donde no se llegaron a mayores acuerdos.
Ad blocker interference detected!
Wikia is a free-to-use site that makes money from advertising. We have a modified experience for viewers using ad blockers

Wikia is not accessible if you've made further modifications. Remove the custom ad blocker rule(s) and the page will load as expected.