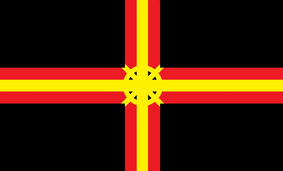 El Ruber Erectissimus (Alerta Roja) es una de las Categorías dentro del Estado de Guerra de la Confederación Sigma, En donde, su principal característica es que aquí se declara oficialmente la Guerra de parte de la Confederación Sigma. Sólo el Supremo Líder es el que puede decretar éste estado.
Características
El Cónsul General de la Confederación, luego de visitar al ente hostil junto al Supremo Líder en busca de mejorar las relaciones diplomáticas con resultados insatisfactorios. El Supremo Líder decretará éste estado, en donde, se decretará oficialmente el Estado de Guerra, es decir, la Confederación Sigma decreta oficialmente la Guerra contra el ente hostil, el órden dentro de la Confederación pasa a ser, a partir de aquí y hasta la finalización de la guerra, al mando de los militares y del Gobierno de la Confederación Sigma.
También es posible declararlo bajo cualquier situación de sublevación o desorden interno provocado por la interacción insatisfactoria de los confederados y los miembros de un Clan Adscrito es motivo del quiebre inmediato del Tratado de Adscripción y de declaración efectiva de Ruber Erectissimus en caso de ser necesario.
Veces Usado
Hasta el momento, se ha usado el 03 de Marzo de 2013, en consecuencia de la Guerra Inicial Confederada, el 15 de Diciembre de 2015, en consecuencia de la Guerra Neo-Yaciente del Medio Liberal y el 18 de Octubre de 2016 en consecuencia de la Guerra Contra el Terrorismo en Mount&Blade.
Ad blocker interference detected!
Wikia is a free-to-use site that makes money from advertising. We have a modified experience for viewers using ad blockers

Wikia is not accessible if you've made further modifications. Remove the custom ad blocker rule(s) and the page will load as expected.