El S.C.I es un organismo de la Confederación Sigma totalmente secreto cuyo significado de las siglas y cuya función sólo es conocida por el Supremo Líder y el Prima Consiliarius.
Todo lo referido a esta organización es información clasificada. El 31 de Agosto de 2016 se reveló, mediante un proyecto de gobierno de transparencia, información sobre el Inquisidor Definitivo Confederado, título que pertenece al director de la organización susodicha.
El S.C.I trabaja únicamente para el Supremo Líder. El Prima Consiliarius también sabe de sus ocupaciones y de sus siglas, sin embargo, no puede ejercer órdenes hacia ellos.
Esta organización fue armada, de manera Pro-Tempore, el 18 de Noviembre de 2012, durante la Sexta Junta del Gobierno Confederado.
Fue fundada de manera oficial el 08 de Enero de 2013, en la fundación de la Confederación Sigma. Esto le vale el calificativo de organización más antigua junto al noticiario Sigma News.
Todos los integrantes de esta organización reciben el tratamiento protocolar de Honorable Señor.
Emblema del SCI
El primer emblema del SCI fue ratificado el 18 de Enero de 2013. 
El segundo y actual emblema del SCI fue ratificado el 11 de Enero de 2015.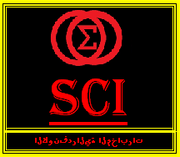 Ad blocker interference detected!
Wikia is a free-to-use site that makes money from advertising. We have a modified experience for viewers using ad blockers

Wikia is not accessible if you've made further modifications. Remove the custom ad blocker rule(s) and the page will load as expected.