« equis de lal potato » - Sirio Carl. 
Sirio Carl, es actualmente un soldado dentro de la Confederación Sigma.
Se le considera integrante de la Familia Araki y de la Casa Drachen.
Su paso en la Confederación Sigma
Ingresó en la Confederación Sigma el 30 de Septiembre del 2013, Por promoción de su amigo Alucard Araki.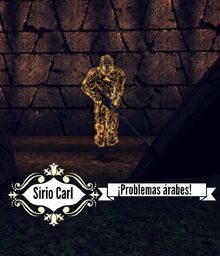 Intentó ser partícipe en la Copa SkaarjFifa Confederación 2015, formando parte del Equipo Lobos Rayo. Originalmente iba a integrar el Equipo Lnmntrix, pero desertó al mismo antes de iniciar el torneo, moviéndose a Lobos Rayo.
Ad blocker interference detected!
Wikia is a free-to-use site that makes money from advertising. We have a modified experience for viewers using ad blockers

Wikia is not accessible if you've made further modifications. Remove the custom ad blocker rule(s) and the page will load as expected.