« Mae mejor no me meto son todos pornograficos y me voy a contagiar » - Soto
Soto fue un militar de la Confederación Sigma. Ex-Soldado del Pelotón Alfa. Ex-Capitán del Pelotón Shakuras, Ex-Soldado del Pelotón Duke y del Pelotón Raynor.
Su paso en la Armada
Soto ingresa al clan junto con su primo Mazoku siendo reclutado por ToNY inicialmente ingresando al Pelotón Raynor.
Soto al poco tiempo se cambia al Pelotón Duke y cuando se reabre los nuevos pelotones, pasó a ser Capitán del Pelotón Shakuras, participando en la Guerra Fénix. Debido a su actitud, se le considera como el miembro mas humilde de la Armada Vortex.
En 2012 tuvo poca actividad, y fue uno de los pocos miembros que estuvieron en desacuerdo con el Tratado de NyLeve y con el Pacto del Unísono. Poco después el Comandante Lucaso habla con el miembro y después estuvo de acuerdo.
Confederación Sigma
Ingresó el 08 de Enero de 2013 a la Confederación Sigma, en su fundación. Se retiró el 08 de Enero de 2014.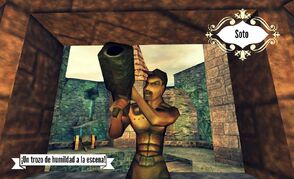 Participó de forma activa en la Copa SkaarjFifa Confederación 2015 formando parte del equipo Terraniux Crew, pero no formando parte de la Confederación.
Reingresó formalmente a la Confederación el 03 de Febrero de 2015.
El 21 de Marzo de 2015 ingresa al Pelotón Alfa siendo soldado del mismo.
Participó activamente en la Copa SkaarjFifa Futbook 2015.
Fue partícipe en los Juegos Olímpicos de Unreal 2016 de Futbook junto a Julixan. No obstante tuvo diversos problemas y su reemplazo fue Dark_Soul.
El 24 de Diciembre de 2016 abandona la Confederación Sigma.
Condecoraciones, premios y reconocimientos
Clan TvA
Veterano de la Armada Vortex Rikers.-
Confederación Sigma
Ad blocker interference detected!
Wikia is a free-to-use site that makes money from advertising. We have a modified experience for viewers using ad blockers

Wikia is not accessible if you've made further modifications. Remove the custom ad blocker rule(s) and the page will load as expected.