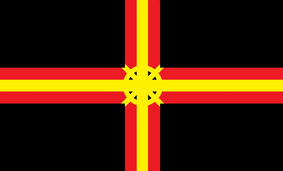 La Tregua de Guerra es el Estado de Máxima y Suprema Alerta dentro de la Confederación por alguna guerra.
El Supremo Líder es el único que puede decretar éste estado y el Almirante Comandante de las Fuerzas Interestelares Confederadas es el único que puede enviarle alguna petición formal para que lo decrete mediante el Código Negro.
El estado Final de Guerra fue aprobado y ratificado durante la Décima Tercera Junta del Gobierno Provisional, efectuada el 04 de Enero de 2013.
Características
Antes de activar la Tregua de Guerra, debe anunciarse y oficializarse el Código Negro (Y la mayoría o en su defecto, todos los estados previos), luego de activarlo, ocurre;
Todos los miembros militares, sean del juego que sean, participan inmediatamente en la Guerra en desarrollo, Si por alguna razón, el juego en donde se disputa esta pelea, no es donde algún militar esté presente, éste militar prestará apoyo anímico y moral, además de intentar perturbar la tranquilidad en los dominios del oponente (Páginas Web, Etc) e incluso intentará participar descargándose el juego en cuestión. 
Todos los miembros civiles se vuelven milicia y apoyan con lo mismo que con los militares.
Todas las organizaciones, sin excepción (incluyendo al Consejo Confederado), se preparan para los ataques bélicos.
Todos los miembros del Gobierno Central de la Confederación Sigma (Excepto el Supremo Líder) se preparan para los ataques bélicos también.
El Supremo Líder buscará apoyo de otros Clanes Aliados Y/O Personas amigas de la Confederación con la asistencia correspondiente del Cónsul General de la Confederación.
Máximo estado de alerta de todos los miembros Confederados sin excepción.
Veces Usadas
Hasta el momento, Nunca se ha usado la Tregua de Guerra por algún conflicto bélico.
Ad blocker interference detected!
Wikia is a free-to-use site that makes money from advertising. We have a modified experience for viewers using ad blockers

Wikia is not accessible if you've made further modifications. Remove the custom ad blocker rule(s) and the page will load as expected.